Covenant Shores Holiday Concert this week - 12/13/2016. Watch this space for any updates.
Last updated: 03:56 p.m. 12/08/2016.
Welcome to the Bellevue Community Band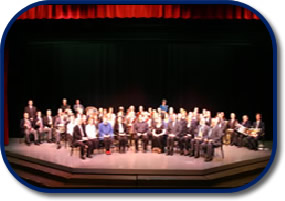 Welcome to the Bellevue Community Band (BCB) in Bellevue, Washington. Founded in 1962, the BCB provides the opportunity for musicians from all backgrounds and training to enjoy the pleasure of playing in a band. The musicians of the BCB represent a broad spectrum of backgrounds including engineers, schoolteachers, housewives, students, and senior citizens. The BCB is a non-profit volunteer organization which performs concerts in the Bellevue vicinity. We vary in size from 50 to 80 members, and play outdoor concerts in the warm weather months and indoor concerts year-round.
Join the Band!
The Bellevue Community Band is committed to the community band concept, providing an opportunity for community musicians of all ages and all levels of experience to make music and improve their skills in a supportive and non-threatening atmosphere. The Band welcomes anyone who can read music and can play a band instrument. THERE ARE NO AUDITIONS, we do have limited space in the band.
The Bellevue Community Band currently has a seat (or seats) open on the following sections:
Last updated: 09/12/2016



We started the 2016-17 rehearsal schedule on September 13, 2016. We welcome musicians for most sections at this time and would especially like to add another percussionist. We will break for Christmas and New Year holidays and resume rehearsals Jan. 3, 2017. Contact us at any time about joining. Bellevue College students: you can register to receive credit for participating in the band - contact the school for details.




If you would like to check on a section not listed, please contact the director. It is possible the openings on the website are not up to date. Even if there are openings in the band, it is always best to contact one of the directors to let them know you are showing up to a rehearsal.

Our season generally runs from the first Tuesday after Labor Day through the end of July. Rehearsals take place Tuesday evenings from 7:30 - 9:30pm in the band room at
Bellevue Christian High School
1601 98th Ave. N.E.,
Clyde Hill, WA 98004 (Map)
For more information send an email to our director or our assistant director.
| | | |
| --- | --- | --- |
| December 20, 2016 | No Rehearsal Due To Monday's Concert | No rehearsal this date due to the Concert on 12/19/2016 at Crossroads. |
| | | |
| --- | --- | --- |
| December 27, 2016 | No Rehearsal | Merry Christmas and Happy New Year |
---


join our group!